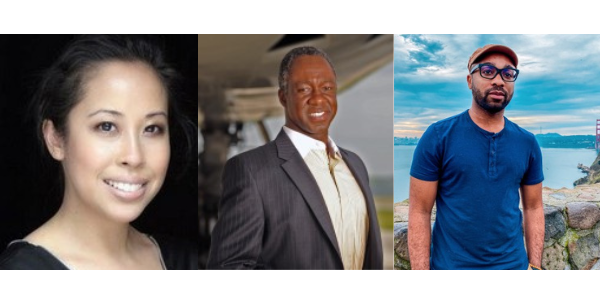 As part of the Founder Institute's continuing series of free online startup events for entrepreneurs worldwide, we are pleased to welcome a panel of entrepreneurial experts including Wogbe Ofori, Minda Aguhob, and Malcolm Woods on June 22nd for a live, interactive webinar event on the topic of Diversity in Tech.
Building a startup is hard, but it's often even harder for minority and women-owned startups—and if you want to be successful on your startup journey, it pays to heed the advice of those who have walked a similar path, yet achieved success against the odds. Watch this video to hear from underrepresented startup experts around the world who share their success stories, best practices, and key pitfalls to avoid to help put you on your path to startup success:
---
Meet the Speakers:
Wogbe Ofori based in Houston, Texas is the Founder of Wrx, an emerging venture development firm investing in hardtech startups as an institutional co-founder. Wogbe is also an entrepreneur and natural didact with over 25-years of experience from multiple industries. Known as the "Purveyor of Perspective" and a champion of hardtech innovation, his unusually diverse experiences have honed his talents as a generalist advisor, venture builder, and thought leader.

Supporting Houston's innovation and entrepreneurship ecosystem's terraformation, Wogbe chaired ecosystem development organization Houston Exponential's Density+Collisions+Connections strategic committee. He has also volunteered hundreds of hours mentoring startup founders and companies through his association with startup development organizations Founder Institute, Capital Factory, MassChallenge, gener8tor, the University of Houston's SURE (Stimulating Urban Renewal through Entrepreneurship) program, and The Cannon.
Minda Aguhob is a San Francisco Bay area based entrepreneur and CEO of Vytality Health, a social support app where people can share their wellness & vitality journeys for co-caring mutual support, and accelerating new mission-driven organizations and partnerships with Vytality's Co-Care to Prosper program. She originated and co-founded Vytality Health with fellow entrepreneur Scott Forgey and she's also focused on the challenge of bringing communities together for building sustainable positive impact and generating resources in robust partnership.

Malcolm Woods:

is a Houston based entrepreneur and CEO oCo-Founder & CEO at FareUpThere, an airline passenger insights company that helps airlines transform feedback into business intelligence that drives growth and increases ancillary revenue. Malcolm is a longtime mobile software engineer with product management skills. He previously spent 10 years developing enterprise software taking mobile/web products from inception to launch for Fortune 500 companies including Dell, Texas Instruments and more, specializing in native Android development.


* * *
Graduates of the Founder Institute are creating some of the world's fastest growing startups, having raised over $1.75BN in funding, and building products people love across over 200 cities worldwide.
See the most recent news from our Grads at FI.co/news, or learn more about their stories at FI.co/graduates.