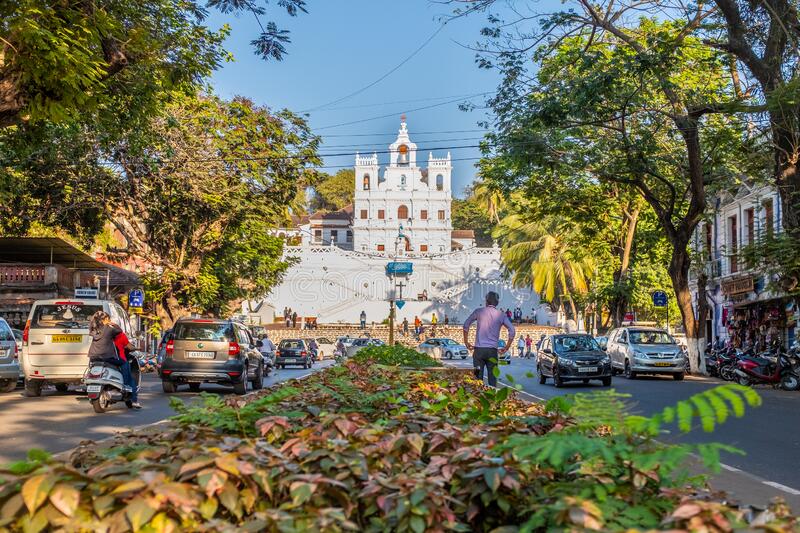 Online program aims to help build 20 promising technology companies per year in Goa.
The Founder Institute (FI.co), the world's largest pre-seed accelerator, announced today that it is officially launching its newest chapter in Goa. Based in Silicon Valley and with chapters across 200 cities, the Founder Institute provides high-potential entrepreneurs and teams with the devoted support network and structured growth process needed to get to traction and funding. Any aspiring entrepreneur or team interested in building an enduring technology in Goa is invited to apply to the Goa Virtual 2022 Founder Institute at http://fi.co/goa.
In an effort to ensure the health and safety of the program's mentors, partners, and participants, this Founder Institute cohort will be held completely online, allowing anyone to build a business alongside some of Goa's top entrepreneurs and investors from the comfort of home. The Goa Virtual 2022 Founder Institute will also host a series of free online startup events, where attendees can learn how to build a company and learn more about the program.
WEBINAR

: Founder Institute Online Information Session: https://FI.co/infosession
Leading the efforts to launch the Founder Institute in Goa are local startup leaders Chintan Oza, Pritam Onsker, and Priyanka Row.
In addition, many of the region's top startup investors, founders, and executives have expressed interest in mentoring entrepreneurs in the program:
Aaron Patzer: Founder, Mint.com
Adeo Ressi: Founder/CEO
Alexandra Johnson: Managing Director, DFJ VTB Aurora
Alexandra Wilson: Founder, Investor & Advisor, Gilt Group, Montage Ventures
Alexis Beechen: Co-Founder & CEO, The Drop, Mangrove Estates
Bob Richards: Founder & CEO, Moon Express
Bram Cohen: Founder, BitTorrent, Chia Network
Cheryl Yeoh: Founder, Investor & Advisor, Reclip.It, MaGIC
Claire Mc Gregor: Co-Founder, Appbot
David Sacks: Founder & Investor, Yammer, Paypal, Zenefits
David Wu: General Partner, Maveron Ventures
David Rose: Author & CEO, Gust, New York Angels
Divya Gugnani: Co-Founder, Send the Trend, Wander Beauty
Emna Ghariani: Global Director, Founder Institute MENA
Eren Bali: Founder, Udemy, Carbon Health
Eric Ries: Author & Founder, The Lean Startup, Long Term Stock Exchange
Garrett Camp: Founder, Uber, Expa, StumbleUpon
Gina Bianchini: Founder & CEO, Mighty Networks, Former CEO of Ning
Heather Harde: CEO, TechCrunch
Holly Liu: Co-Founder, Kabam
Jason Calacanis: Author, Investor & Founder, Inside.com, LAUNCH Accelerator
Jason Johnson: Founder & CEO, August
Jeffrey Paine: Managing Partner, Golden Gate Ventures, Singapore
Jessica Alter: Entrepreneur & Advisor, Tech for Campaigns, Social Capital
Jessica Mah: Founder & CEO, inDinero, Impact Collective
Jill Stelfox: Co-Founder, Graffiti Sports, Binary Group
Jilliene Helman: CEO, RealtyMogul.com
Joanna Lord: CMO, ClassPass
Jonathan Greechan: Co-Founder, Founder Institute
Jonathan Abrams: Founder, Nuzzel, Friendster
Justin Moore: CEO & Investor, Axcient
Kenneth Hogrefe: CEO and Founder, Tech Africa Pte. Ltd.
Kirsten Rose: Head of Low Emissions, BHP, Clean Energy Entrepreneur
Lucy Beard: Founder & CEO, feetZ
Mark Pincus: Founder, Zynga
Michael Seibel: CEO & Partner, Y Combinator
Nitin Pachisia: Founding Partner, Unshackled Ventures
Phil Libin: Founder, All Turtles, Former CEO of Evernote
Rashmi Sinha: Co-Founder, SlideShare
Robin Chase: Co-Founder & Former CEO, Zipcar
Rosemarie Truman: Founder & General Partner, Gazelle Futures, Center for Advancing Innovation
Sam Yagan: Co-Founder, OK Cupid, ShopRunner, Techstars Chicago
Scott Heiferman: Co-Founder & CEO, Meetup
Scott Painter: Founder, Fair.com, TrueCar, CarsDirect.com
Sergio Maziano: Founder & CEO, NEXT Solutions
Tim Ferriss: Angel Investor & Author, 4-Hour Workweek
And many more to be announced.
The Founder Institute Goa Virtual 2022 pre-seed accelerator program begins on March 22, 2022, and aspiring and early-stage entrepreneurs looking to build solutions for the future will have the opportunity to:
Get constant feedback and regular office hours with

50+ Goa Mentors, investors, and entrepreneurs

.

Make quick progress on their business using a proven, structured process to get to traction and funding that has helped alumni build great products and raise over $1 billion in funding.
Get fast-tracked to a

suite of post-programs

, including Funding Lab, to continue getting expert support for years to come.
Expand their support network to include startup founders, CEOs, and investors from the Founder Institute's

global network of 5,000+ alumni

and 20,000+ mentors across 200+ cities
Anybody who is interested can apply to the Goa Virtual 2022 Founder Institute at

FI.co/goa

, and those that apply by the Early Application Deadline (Dec 12, 2021) are eligible for reduced pricing.
Apply to the Goa Virtual 2022 Founder Institute today, or learn more at FI.co/overview.