Director Profile: Alan Colmenares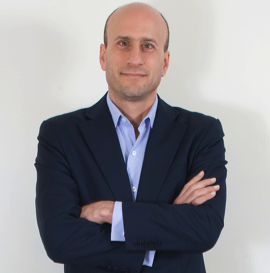 Alan Colmenares, the Director of the Bogota and Medellin Founder Institute, has been crucial in helping the Founder Institute launch chapters in not only Colombia, but throughout all of Latin America.
Since launching in the first Latin American chapter in 2011, the Founder Institute has helped launch over 75 startups in the region, including such well-known companies as Comparamejor, Mashpedia, and WomyAds.
In fact, over $3 million has been invested in Alan's Graduate companies in Colombia.
After brief tenures with InfoWorld in Silicon Valley as a writer and editor of technology topics and with Intel Capital as a Venture Capitalist in Mexico and Brazil, Alan decided in 2009 to establish himself as an ecosystem builder, and soon relocated to Colombia. Since then, he has made it his mission to develop the country into a veritable hotbed of entrepreneurial potential on par with Silicon Valley.
Despite Colombia's lack of notoriety in the world of international tech corporations, Alan pressed on, determined to make a name for Colombia.
I've found that it pays to have lofty goals. When I first arrived to Colombia, I worked at a well-known technology multinational corporation and told my team that I wanted to build a world-class services organization. One way to measure ourselves was by the satisfaction of our user base. Four years later, we were named the top country by that metric in the whole world.
Currently serving as an advisor for budding startups, Alan hopes to instill the same spirit of innovation that has motivated him throughout his career. He has even written extensively on the Latin American startup scene for such renowned publications as VentureBeat and The New York Times, as well as his own blog, TropicalGringo.
What really excites me about this moment in time is that all of these digital tools are infiltrating our lives, and changing the way many businesses operate. Latin America has all of the potential to innovate and take advantage of these new tools.
Alan has only managed to expand his reach and further bolster the Colombian startup scene with Founder Institute, leading chapters in both Bogota and Medellin.
Since the Founder Institute focuses on the actual founders, there are countless founders that passed through the program (some did not graduate) that are active members of the Colombia startup ecosystem. Some are developing a new startup, some are evangelizing key concepts to their peers and others have gone back to becoming an employee after getting a clearer understanding of what it takes to make a startup successful.
Since he first began working with the Founder Institute, Alan has found that bringing a "Silicon Valley mindset" to Colombia has only strengthened the local startup ecosystem. Not only does the program cultivate the raw talent of the region, it also gives aspiring entrepreneurs the opportunity to learn and grow under the tutelage of experienced local, and international, startup experts.
While Colombia, as well as much of Latin America, continues to establish itself has a hub of entrepreneurialism, Alan is confident that operating as a Founder Institute Director has equipped him the tools and support he needs to inspire his fellow founders to take the leap.
If there is one thing that I've always enjoyed throughout my career, it's creating a big impact and being the FI Colombia Director has certainly enabled me to fulfil this passion while, at the same time, working with incredible people. You never know how long things will last, but it has been incredibly rewarding for me up to this point.
In addition to serving in a myriad of roles (startup advisor, speaker, FI Director, etc.), Alan Colmenares is currently utilizing the clout acquired from his illustrious career to launch an early stage investment fund called Tayrona Ventures, which takes a Silicon Valley approach to venture capital, to create and accelerate the next generation of technology companies in Latin America's rapidly emerging markets.
See a sampling of some of the fast-growing companies Alan has helped launch through the Founder Institute below.
To learn more about Alan Colmenares' efforts in bolstering his local startup ecosystem, see his personal blog TropicalGringo.
If you are local startup leader interested in launching a new Founder Institute chapter, visit FI.co/lead